Platonic girlfriends exchange wedding vows, because they want to spend their lives together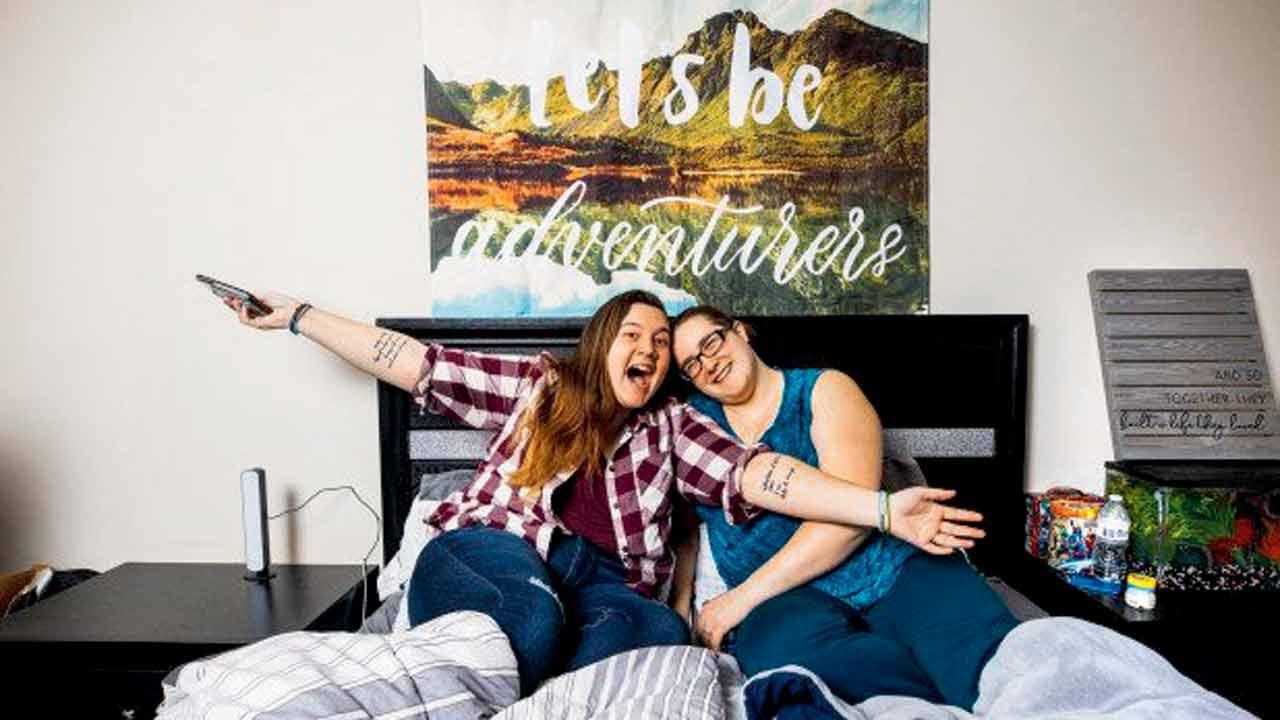 Jay Guercio and Krystle May Guercio identify somewhere on the "asexual spectrum". They met in 2012 at an LGBTQ centre in Long Island
Jay Guercio and Krystle May Guercio, who've been best friends for the last eight years, recently got married because they wanted to spend their lives together. What's amusing is that both brides identify "somewhere on the asexual spectrum". They act as a married couple does, but they don't share a romantic or physical relationship.
Jay and Krystle met in 2012 at Long Island Gay and Lesbian Youth, an LGBTQ centre, and the two high schoolers became fast friends as they would dish on "toxic" exes and go on long walks, where they would talk about their dreams – specifically about becoming adoptive parents. "Our goals aligned so perfectly," said Jay. Around the same time she met Eddie and over the next few months decided she would adopt him. Jay called her best friend Krystle, and they instantly decided to raise Eddie together.
They got married in September last year. Despite their untraditional marriage, having a traditional-style wedding-with wedding gowns, rings and vows they wrote themselves-was important to the pair. The two have shared a single kiss in their entire relationship, on their wedding day out of fear of "not being taken seriously." Jay described the smooch at the altar as "really uncomfortable" and "something I wish I could take back." Both wives are free to pursue flings outside of the marriage.
4.8mn
No. of views the marriage announcement video received
What the boob!
Colombian male model and brother-in-law get breast implants following stupid bet
Yeferson Cossio, is known for his pranks and edgy content, but most of his loyal fans were taken aback by his latest stunt. Last month, the young model and his brother-in-law, Jhoan López, made an interesting bet. Cossio had to reach the three million follower mark on Instagram in a certain period of time, and if he lost, he had to get breast implants.
If he made it, then López would have to get silicone implants. Cossio ended up reaching three million followers on Instagram sooner than expected, so it was López who had to get breast implants, but the popular influencer decided that it would be fun to share the experience with his friend, so they both went under the knife. Both men removed the implants a few days later.
Woof or Wolf?
A zoo in Xianning, Central China, has sparked outrage on social media after a visitor visiting the wolf enclosure found a Rottweiler resting inside. A zoo employee confirmed that there was indeed a dog in the wolf's enclosure, but added that the animal was only kept there temporarily and was apparently a watchdog to prevent strangers trespassing into the yard. Online, reactions to the videos were mixed, with some people declaring themselves outraged by the zoo's tactics, others joking that they were glad the dog wasn't the wolf's dinner.
You can't kill 'em
Scientists have discovered that some decapitated sea slugs can regrow hearts and whole new bodies. Biology researcher Sayaka Mitoh recently saw something bizarre: A sea slug had decapitated itself and the head kept on moving and living. So, the doctoral student and Nara Women's University aquatic ecology professor Yoichi Yusa tried cutting the heads of 16 sea slugs. Six of the creatures started regeneration, with three succeeding and surviving. One of the three even lost and regrew its body twice. Two different species of Japanese sea slugs did this regeneration trick. What helps them pull off the trick? When these sea slugs eat a certain type of algae they can photosynthesize their food from sunlight and oxygen, just like a plant, for about 10 days. After decapitation, the head acts like a plant. It turns a shade of green and gets its energy from oxygen and sunlight.
Restaurant lover takes a 'dip' of faith
A California stuntman spent 24 hours sitting in a pool of bean dip to promote and support his favourite restaurant in Los Angeles that suffered losses from the COVID-19 pandemic. The 24-hour tenure in the pool coincided with a block party at the eatery.
Sausage helps nail 2012 burglar suspect
A nine-year-old burglary was solved after the German police found a DNA on a half-eaten piece of sausage that matched a man detained in France over an unrelated crime. The suspect, an Albanian citizen took a bite of the sausage that belonged to the victim.
$500k worth artefact found in yard sale
A small porcelain bowl bought for $35 at a Connecticut yard sale turned out to be a rare, 15th century Chinese artefact worth between $500,000 (Rs 3.6 lakh approx). The white bowl adorned with cobalt blue paintings of flowers and other designs is identified as a product of the early Ming dynasty.