In recent days, Bollywood sensation Katrina Kaif has been at the center of a media frenzy due to pregnancy rumors that have taken the industry by storm. The actress, who has been notably absent from public events and social gatherings, fueled the speculations further by her absence from the Ganesh Chaturthi celebrations at the Ambani residence and even from the revered Lalbaugcha Raja darshan. While her husband, Vicky Kaushal, was seen at the latter event, Katrina was nowhere to be found, raising eyebrows and sparking a wave of questions.
Katrina Kaif's absence from the public eye has led many to speculate that she might be expecting a child and is therefore staying away from the limelight. These rumors have gained significant traction on social media, with fans and the media alike questioning whether the actress is indeed pregnant.
Read More:- VICKY KAUSHAL SHARES FIRST PICTURE FROM HIS VACAY WITH WIFE KATRINA KAIF
However, recent media reports now claim that Katrina Kaif is not pregnant and that her absence from public events can be attributed to her busy work schedule. According to these reports, the actress has been traveling to different cities for work-related commitments and is currently engrossed in her professional projects.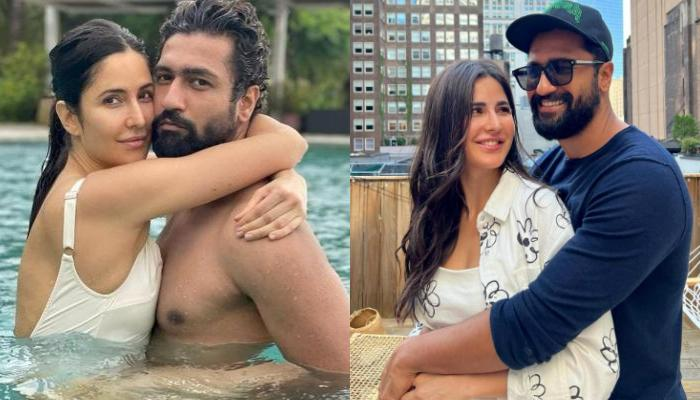 So, why hasn't Katrina been spotted at airports when celebrities are often caught by the paparazzi cameras while traveling? It is worth noting that the actress has been taking early morning flights to avoid media attention, allowing her to go about her business discreetly.
Read More:- KATRINA KAIF LOOKS SCINTILLATING IN A GREY SEQUINNED SAREE FROM MANISH MALHOTRA COLLECTION
It's a common sight to see celebrities being captured by cameras at airports when they depart or arrive from other cities. However, Katrina Kaif's strategy of traveling incognito in the early hours has kept her away from the paparazzi's lenses.
While the media has been abuzz with speculations surrounding her pregnancy, it's essential to remember that these are merely rumors, and Katrina Kaif herself has not confirmed any such news. The actress has always been private about her personal life, and it's her prerogative to share such news when and if she chooses to.
Read More:- HOT SCOOP: RANBIR KAPOOR VISITS KATRINA KAIF'S NEW HOME
For now, it seems that Katrina Kaif is committed to her professional commitments, and fans can look forward to seeing her on the big screen in the near future. As for the pregnancy rumors, only time will tell if they hold any truth, but for now, they remain unsubstantiated gossip in the world of Bollywood.