Do you know why Teej is celebrated? What is Teej? What happened on Teej day? Many such questions will be in your mind and the most important question will be why Teej is celebrated with so much fanfare in Haryana. Never mind, we will tell you what is Teej and why it is made with so much fanfare in Haryana.
Well, when is Teej celebrated?
The cycle of the moon determines when Teej is celebrated each year. This festival is celebrated annually in July or August during the monsoon season of India. The festival is celebrated in several states, mainly in the central and northern regions of the country – although it is an official public holiday only in Haryana. It is celebrated in states like Rajasthan, Bihar, Uttar Pradesh, Punjab and Haryana. Jaipur, the capital of Rajasthan, is home to some of the most famous celebrations of Teej.
Oh, why is Teej celebrated?
Teej represents the ties between wife Parvati and husband Shiva. The festival commemorates Parvati's unwavering dedication to her husband. When Indian women look for their blessings during Teej, they do so as a means of achieving a strong marriage — and a quality husband. Not only does Teej center around a strong marriage, but it also focuses on the happiness and health of children.
The name "Teej" is thought to be a reference to a tiny red insect that comes out from the ground during monsoon season. Hindu myths believe that when that happened, Parvati visited Shiva's residence. This sealed their connection as man and woman.
What happens during Teej
During Teej, women put on their best accessories and attire. They also often get henna or mehendi decorations on their hands. They sing many songs that are associated with the festival. They swing on swings that are fastened to big tree branches. They experience a combination of fasting and lavish, sumptuous feasts, too. Dancing is yet another typical Teej activity.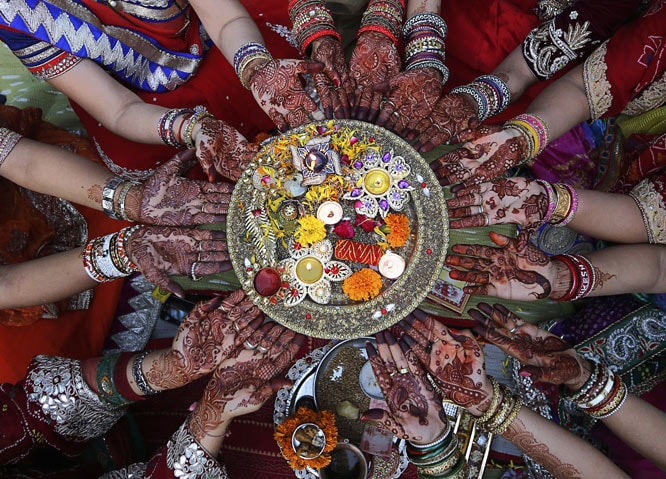 Why does Haryana celebrate the festival of Teej?
Not only does Teej focus on marriage and family ties, but it also focuses on the monsoons. Monsoons give the people welcome rest from the intense heat of the summer months. After the first spell of the rain a small insect, which is red in color, comes out of the soil that is known as Teej in Haryana. The most lively place for Teej is the Myna Tourist Complex (Rohtak). Here are stationed boughs of huge trees and cultural programs are organized.
The festival commemorates the rich and glorified culture of India.