Except, The Big Bull is unintentionally an OTT release. But it is in every way, a 'Bollywood' film, in terms of how you'd expect/imagine the life of a top, '90s stock broker, modelled on the infamous Harshad Mehta, to play out.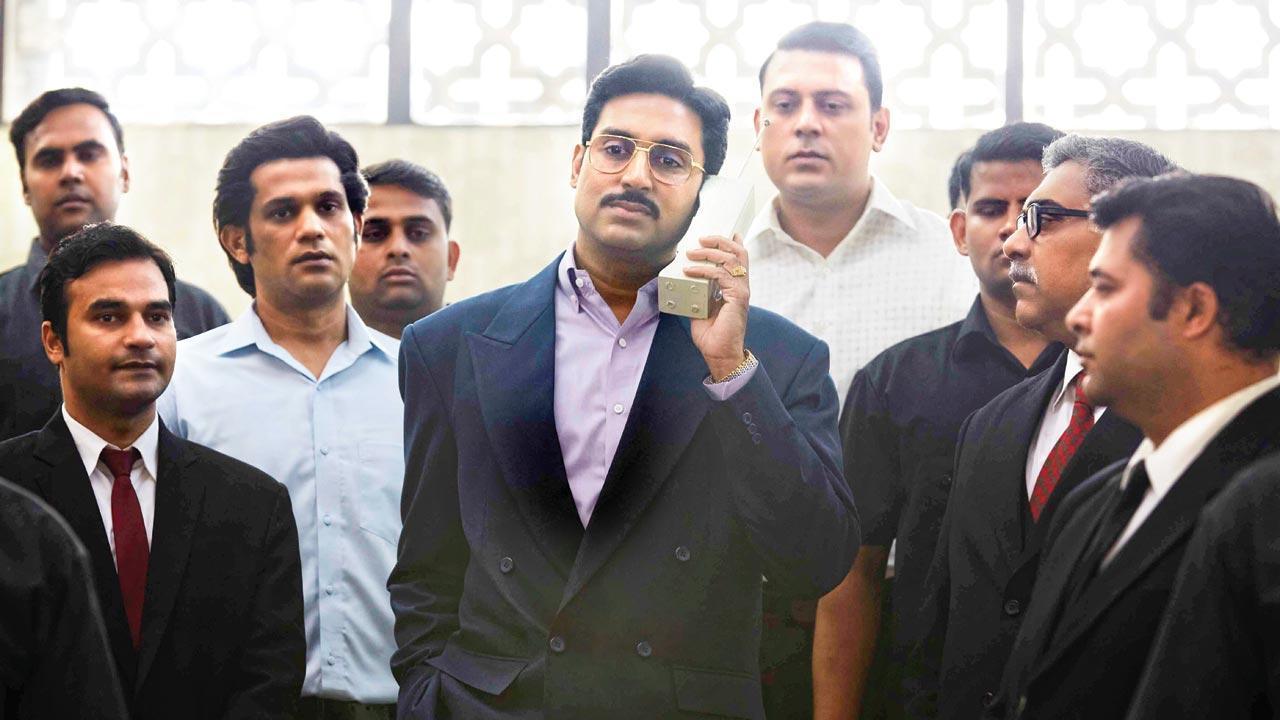 Abhishek Bachchan in The Big Bull, Picture Courtesy: Mid-day Archives
The Big Bull
On: Disney + Hotstar
U/A: Drama
Director: Kookie Gulati
Cast: Abhishek A Bachchan, Sohum Shah
Rating: ***

NOT just saying this because of the crappy 'mahavari', Akshay Kumar, Padman anti-smoking PSA, missed by no one, that shows up, before this show starts. But in a Pavlovian sort of way, that really does prepare you for a theatrical screening to follow.
Except, The Big Bull is unintentionally an OTT release. But it is in every way, a 'Bollywood' film, in terms of how you'd expect/imagine the life of a top, '90s stock broker, modelled on the infamous Harshad Mehta, to play out. Do I mean cardboard/cartoonish Bollywood, like Once Upon a Time in Mumbai Dobaara (2013) depicting the life of Dawood Ibrahim — hitting bull's eye after bull's eye, with dialogues on a bow and arrow? Nope.
Watch the trailer of The Big Bull right here:
Would the reference to Mani Ratnam's Guru as Dhirubhai Ambani's biopic come closer? Hard to say if Ratnam himself would make that film the same way anymore (from whatever he's been up to lately). Guess what I'm getting at is imagining a house-full of people watching this event pic, collectively responding to its highs and lows, and the drama and melodrama, in turns. A movie really is where there's a queue before the box-office counter.
This is what the filmmakers would've borne in mind, scripting/executing this biopic for its tone/form. There is a lot of what you'd call mainstream stuff going on. I know people who'll cringe, but I don't necessarily mean it in a pejorative sense. This caveat is also essential, because Bombay Stock Exchange's Big Bull biography has only recently been picturised — as an astoundingly brilliant, nine-hour long, ten-part series, Hansal Mehta's Scam 1992 (2020). Which makes this film already a tough act to follow. Indeed tough-luck for those telling this story so soon after. But the difference is altogether in the telling; always, isn't it?
Looked at another way, it also automatically drops your conscious expectations here. As it did mine. Also, never heard of filmmaker Kookie Gulati. And then you're inevitably/pleasantly surprised, hearing yourself go, "Not bad at all, huh?" As I did too.
And that's because this true-life account itself, of jugaad and jhol, ambition and greed, is so frickin' compelling —for its larger-than-life lead character, but layered with contemporary political/financial history, its significance to current times, and the times it's set in — that you know what? Why not catch another take!
By history, of course, we're referring to that line between pre- and post-liberalisation India (1991). The latter changing everything you see on Indian roads — from cars to hoardings, products to clothing. It's like India was reborn. Step to the left of that imaginary wall, and you have almost a full-blown period film! Which is what The Big Bull is. And treated as one too.
The Big Bull being Harshad Mehta, of course, although not directly named here. We know he gave to Indian lexicon the word 'scam' (for a financial fraud). Suspect he may also have been the first to introduce the word "rally" into desi stock markets — a continuous rise in scrip prices that gave many middle-class Indians an avenue to invest and reap serious profits from anything outside real-estate and gold.
Making him temporarily a messiah of sorts, rather than any other 'chawl to skyscraper' story. What The Big Bull attempts to trace, without going overboard, is also the motivation behind the man, which is a shifting goal post — from getting the girl he loves, to enriching his family, then nation, and eventually becoming India's first billionaire. Liked that simple touch.
Frankly, this isn't the first feature film on Mehta. I remember watching Sameer Hanchate's Gafla (2006) in a theatre. Sure, this is better. Even more recently for a 'Bollywood' film on stock markets, there was the Saif Ali Khan starrer Bazaar (2018). This is superior. But like it or not, unfair but inevitable, the comparison to be drawn will be with Scam 1992, which is a series, that allows for so much more space for all characters and sub-plots to evolve. Something feature films can't; agree. It's still the faithful/fine detailing (that you loved that show for), that you miss in the movie that irks you sometimes.
Not just with placing places, or naming names, or an authentic production design. That's creative liberty. I mean it by way of even simple signage and reference — from a magazine cover masthead "Indian Chronical", "Chief of Justices" for a list of CJIs on the court's appointment board, western news channel talking in "crore", or just the way the journalist goes around collecting evidence for her story, walking into the auditing room of a bank… The inexplicable laziness bothers you beyond a point.
Mercifully the same allegation does not apply to Abhishek Bachchan, the man leading this film, which might well be the first one he's shouldered on his own in about a decade. In a thick moustache, standing slightly hunched, with a slight paunch and a gentle double chin — he sure walks the part, talks the talk, remaining under-stated all along, but not so much that you feel distanced as an audience.
There's a lightly menacing laugh, but otherwise he exudes a sincere demeanour. It could be self-referenced; it's not derivative at all. Going on about Bachchan, because this is also the best part he's been offered since a dream run of sorts a decade and half ago (Sarkar, Bunty Aur Babli, Bluffmaster, etc). And he delivers. A film, of course, can always be better.