Haryana, a northern Indian state, has a political landscape steeped in dynastic legacies. For several generations, five influential political dynasties have held sway over the state's politics, shaping its destiny and governance. These dynasties have produced prominent leaders, some of whom have held key positions in the state and central governments. Let's delve into the fascinating tapestry of Haryana's political dynasties.
The Bhagwat Dayal Sharma Dynasty:
Pandit Bhagwat Dayal Sharma, fondly known as the "Bhishm Pitamaha" of Haryana politics, played a pivotal role in shaping the political careers of notable leaders like Bansi Lal, Bhajan Lal, and Sushma Swaraj. His influence and guidance have left an indelible mark on the state's political landscape.
The Bhagwat Dayal Sharma Clan: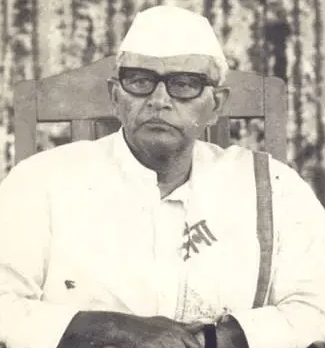 The Bhagwat Dayal Sharma clan boasts a rich political history, with members serving in various capacities. From B. D. Sharma's tenure as Chief Minister and Governor to Rajesh Sharma's contributions as a minister, this family has played a significant role in Haryana politics.
The Bansi Lal Clan:
Once a dominant force in Haryana politics, the Bansi Lal clan has seen a decline in recent years, with its influence now limited to specific seats. Bansi Lal, a former Chief Minister, and his family members have left their mark in the state's political arena.
The Bhajan Lal Clan:
Similar to the Bansi Lal clan, the Bhajan Lal dynasty has faced challenges in retaining its traditional hold on power. Bhajan Lal, a former Chief Minister, and his family members continue to be active in Haryana politics, particularly in Hisar Lok Sabha and Adampur assembly seats.
The Devi Lal's Chautala Clan:

Originating from Rajasthan, the Devi Lal's Chautala clan transformed from an obscure farming family into a political dynasty. With members like Om Prakash Chautala and his sons, including Dushyant Chautala, this family has had a significant impact on Haryana politics, although internal divisions have taken their toll.
The Sahib Ram Sihag Clan:
Sahib Ram Sihag, the first politician from the family, paved the way for political engagement. With Devi Lal and his descendants making their mark in politics, this clan has had a notable influence on Haryana's political landscape.
The Chhotu Ram Clan:

Chhotu Ram Ohlan, a prominent figure in Haryana politics, founded the Unionist Party and left a lasting legacy. His descendants and related branches continue to play a role in the state's politics.
The Birender Singh Sheokand Clan:
Related to Chhotu Ram, the Birender Singh Sheokand clan has produced leaders like Birender Singh and Premlata Singh, who have made significant contributions to Haryana's political arena.
The Hooda Clan:
The Hooda dynasty's origins lie with Chaudhary Matu Ram Hooda, an Arya Samajist. From Ranbir Singh Hooda to Deepender Singh Hooda, this clan's influence extends from Rohtak to Sonepat and Jhajjhar.
The Rao Clan of Ahirwal:
The Rao Tula Ram's descendants in the Ahirwal region of South Haryana have maintained a stronghold in local politics. Notable clans include the Ajay Yadav and Rao Birender clans.
The Tanwar-Maken Clan:
This branch of the clan holds significant sway in the INC politics of Sirsa, with leaders like Ashok Tanwar making their presence felt.
The Kanda Clan of Sirsa:
Prominent in the politics of Sirsa city, the Kanda clan, led by Murli Dhar Kanda and Gopal Goyal Kanda, continues to shape the region's political landscape.
The Mann Chaudhary's Clan of Gogdipur:
Active in Indri in Karnal and Pai in Kaithal, the Mann Chaudhary's clan has played a vital role in local assemblies.
The Ahmed Clan of Nuh:
Prominent in the Nuh constituency of the Mewat area, the Ahmed clan has produced leaders like Kabir Ahmed and Khurshid Ahmed.
The Hussain Clan of Nuh:
Also influential in the Nuh constituency, the Hussain clan, led by Mohammad Yaseen Khan and Choudhary Tayyab Husain, has made a mark in politics.
The Shri Rahim Khan Clan of Mewat:
The Shri Rahim Khan clan, based in Mewat, boasts a rich political legacy, with members like Chaudhary Rahim Khan and Chaudhary Mohd Ilyas serving the people.
The Shakrulla-Naseem Clan of Ferozepur Jhirka:
Prominent in Ferozepur Jhirka, the Shakrulla-Naseem clan, led by Shakrulla Khan and Naseem Ahmed, has left an indelible imprint on local politics.
The Surjewala Clan of Jind-Kaithal Areas:
Active in the Jind-Kaithal-Narwana region, the Surjewala clan, led by Shamsher Singh Surjewala and Randeep Surjewala, has been influential in these areas.
Haryana's political landscape is a mosaic of dynastic legacies, each contributing to the state's rich political heritage. These dynasties have played a pivotal role in shaping the destiny of Haryana and continue to be influential in the state's political arena. While some have faced challenges and divisions, they remain an integral part of Haryana's political narrative, leaving an indelible mark on its history.