Shah Rukh Khan Offering 'Dua' For Lata Mangeshkar Makes Twitter Emotional
While many have appreciated Shah Rukh Khan's gesture of saying a dua, a section of people on social media targeted him
Visuals from the cremation ceremony at Shivaji Park in Mumbai show Mr Khan and his manager Pooja Dadlani paying their last respects to the singer. A photograph of Mr Khan with his hands raised in dua and of Ms Dadlani with her hands joined in a pranaam went viral on social media, with most people appreciating how the frame beautifully captured India's diversity.
Yea alg hi khel rahe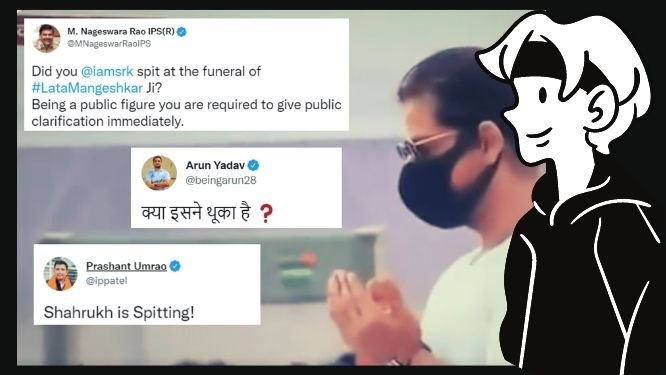 A video of Bollywood actor Shah Rukh Khan blowing air into the wind after offering a 'dua' (prayer) has gone viral with a claim that the actor spat on veteran singer Lata Mangeshkar's mortal remains while attending her funeral on Sunday, 6 February.
Among those sharing the false and misleading claims included Bharatiya Janata Party (BJP)'s Haryana IT cell incharge Arun Yadav, and Hindi news channel Sudarshan News that is notorious for peddling misinformation and communally charged information.
However, blowing into the wind after offering dua is a well-known and well-documented Islamic ritual. It is done to ensure that the prayer reaches the person it is intended for and to ward off evil.