2023 has been a thrilling year for Bollywood enthusiasts with a slew of blockbuster releases. From the Karan-Arjun reunion in SRK's "Pathaan" to Alia and Ranveer's sizzling chemistry in "Rocky Aur Rani Kii Prem Kahani," the year has been a rollercoaster. Now, the spotlight is on Ranbir Kapoor's "Animal" teaser, which promises to send shivers down your spine, released on his birthday.
The Bone-Chilling Teaser
The "Animal" teaser, at just 2 minutes and 30 seconds, packs a punch. It begins with a conversation between Rashmika Mandanna and Ranbir Kapoor about having children. However, this chat takes a dark turn as Rashmika triggers a clash between Ranbir and his on-screen father, Anil Kapoor. Ranbir, sporting a pale, chilling expression, unexpectedly praises his father as the "best."
READ MORE:- LEONARDO DICAPRIO PLAYFULLY TROLLED ON GOOGLE'S 25TH ANNIVERSARY
A Glimpse into 'Animal'
The teaser offers a sneak peek into the movie's core themes – a troubled father-son relationship and the gritty backdrop of the underworld. It features intense action, brutal killings, and high-speed car chases that promise to keep audiences on the edge. Sultry dialogues add complexity to the storyline while revealing how Ranbir's character became a psychopath due to his surroundings.
The Stellar Ensemble Cast:
"Animal" boasts an impressive ensemble cast, including Ranbir Kapoor, Rashmika Mandanna, Anil Kapoor, Bobby Deol, Parineeti Chopra, Tripti Dimri, and more, raising expectations further.
Release Date Update:
Initially set for August 11, 2023, the release of "Animal" has been moved to December 1, 2023, for post-production work.
READ MORE:- AMID ACCUSING SALMAN KHAN OF BEATING HER, SOMY ALI SAYS STILL SUFFERING FROM MY BAD RELATIONSHIP IN INDIA
The Director's Vision: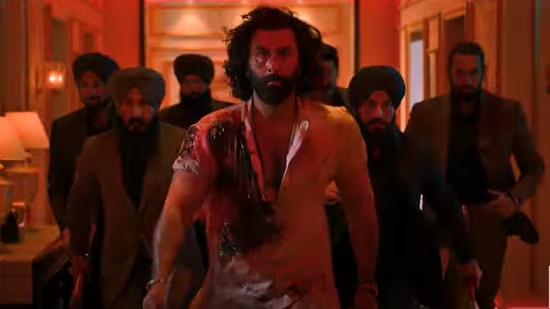 Directed by Sandeep Reddy Vanga, known for "Arjun Reddy" and "Kabir Singh," "Animal" is expected to deliver a hard-hitting, emotionally charged narrative.
Conclusion
"Animal" promises a thrilling cinematic experience with Ranbir Kapoor in a never-before-seen avatar and a stellar ensemble cast. The teaser leaves us hungry for more, and as we await its December release, "Animal" is poised to redefine Bollywood cinema boundaries. Mark your calendars for this bone-chilling masterpiece that will keep audiences talking long after the credits roll.
READ MORE:-THE VACCINE WAR MOVIE REVIEW: UNVEILING INDIA'S BATTLE FOR A HOMEGROWN CURE
Watch Teaser Here