Bollywood actor Randeep Hooda underwent knee surgery on Wednesday at Mumbai's Kokilaben Dhirubhai Ambani Hospital after suffering an injury on the sets of the upcoming series "Inspector Avinash". From where the actor has now got a leave.
Randeep was spotted leaving the hospital with the help of a walker. During this, he was seen in a red T-shirt. Let us tell you that after being discharged from the hospital, the actor shared a photo of himself on his Instagram account. In which he is seen thinking something on the hospital bed. The actor's post has gone viral.
Randeep Hooda shared the post
Sharing his photo on Instagram, Randeep Hooda wrote in the caption with some laughing and confused emoji, "Hurt to knee pe hai but kuch yaad sa kyun aa raha". Posting the actor, his fans have become happy and are praying for their favourite actor to get well soon. At the same time, some users are also enjoying the actor while reacting to the caption written by him.
Fans are enjoying Randeep Hooda's fun
Commenting on Randeep Hooda's Instagram post, a user wrote, "Sir, I was told in my childhood that my brain is in my knees. Maybe the same thing will happen to you." Another user also gave a similar reaction and wrote – Many people's mind is in their knees.. that is the effect. However, apart from this, many fans are praying for his speedy recovery. A fan has written – I wish you a speedy recovery, Paji.. the lion does not remember anything, the world remembers the lion.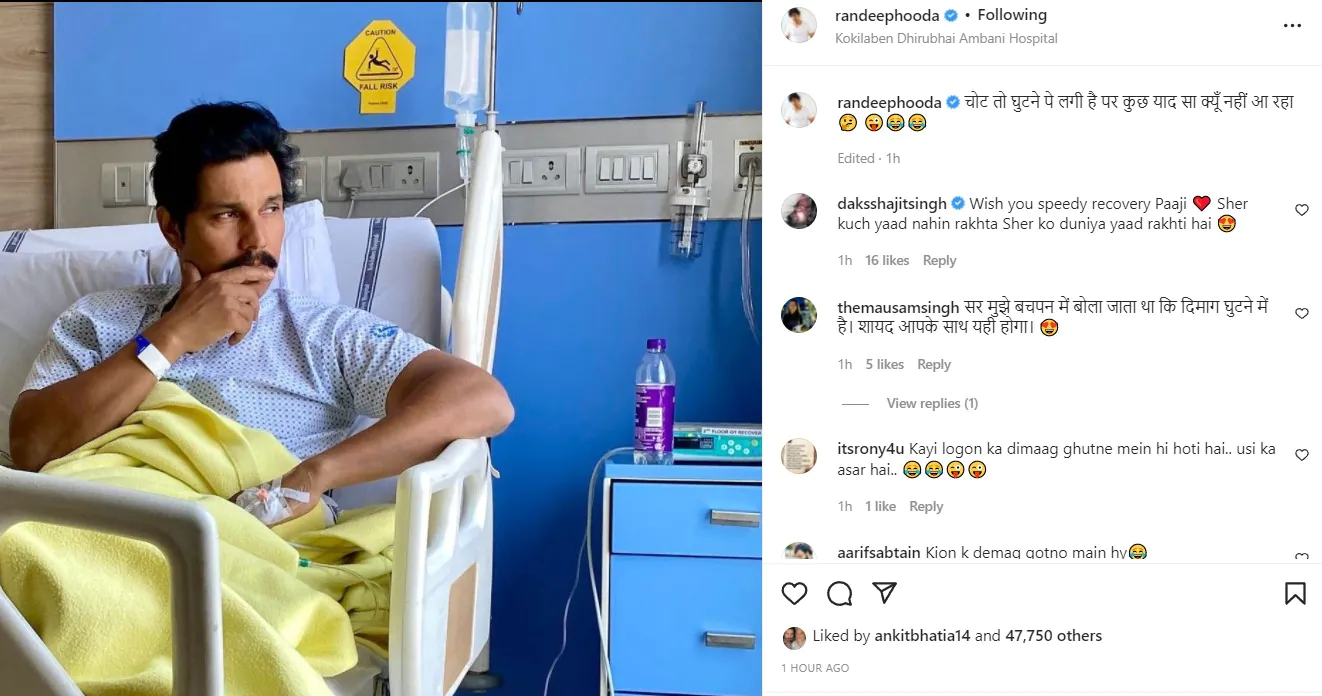 Talking about Randeep's upcoming series 'Inspector Avinash', this series is based on real-life events. The series depicts the story of an inspector dealing with crimes taking place in the state of Uttar Pradesh. After this, Randeep will also be seen in the OTT platform Netflix's revenge drama series 'Kat'.